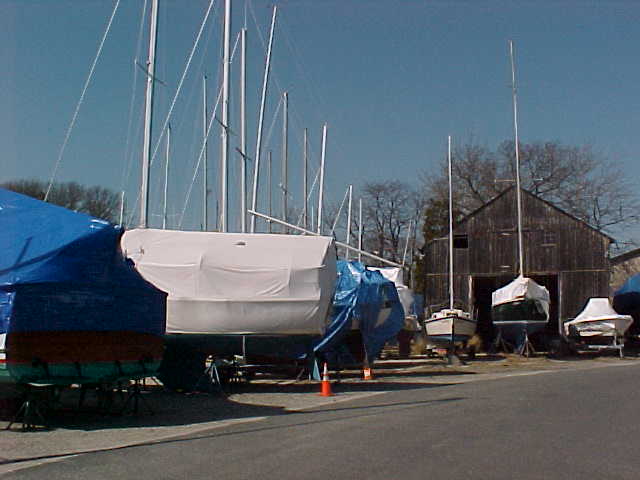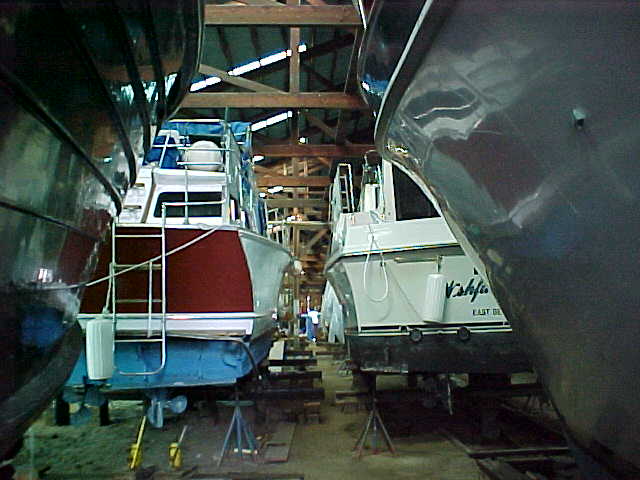 Storage
Outside Storage, Inside storage in traditional boat sheds and in the water, bubble system storage are all available at Weeks Yacht Yard. Here are some key benefits that you won't find at other yards.
Key Benefits
| | |
| --- | --- |
| | OUTSIDE: Brownell Power boat and Sailboat Stands for every boat. No extra fees. Cribbage blocking under keels. Boats placed in position to drain. Chains on sailboat stands. Yard open year round, stands checked weekly. |
| | INSIDE: Safe interior, traditional dirt floor shed storage sheds. Keep your boat out of the weather and safe from storms. Allows yard staff winter work scheduling. |
| | BUBBLE SYSTEM: In water storage includes bubble system to prevent ice damage. 30 amp electric available at each slip. |
Boat Handling and Off Season Care
Weeks Yacht is well known for its careful handling of both power and sailboats. We replace the belts on our 40 ton lift every three to four years and the wire cables every five years. Unlike other yards our belts are carpeted to prevent belt abrasion on chines and water line areas and then we cover them with clean plastic to prevent sand and other materials from coming into contact with your boat's hull.
Power Washing

Each boat hauled is power washed with our high powered professional Honda gasoline powered power wash. If you have barnacles, we'll scrape them off. DEC regulations are strictly followed.

Shrink Wrap

Shrink wrap service is available through the yard for all sizes of boats in storage. No dirt, no dust, no moisture build up. The best way to get through a tough winter without a care.

Winterizing

Winterizing of all types of marine engines is our specialty. From an atomic four to a pair of large CATS......No problem. From a 4 horse outboard to triple Bravo 2s, we can keep your power houses safe from harm.

| | |
| --- | --- |
| Name | |
| Title | |
| Company | |
| Address | |
| E-mail | |
| Phone | |